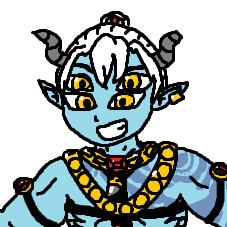 Hello
My names Audjinn, welcome to my carrd page! :)This carrd is to aid taking commissions (see buttons above) for very cheap AI video editing and scuffed L2D models.You can find my twitch channel below:
Live2d models showcase
Below is some of my scuffed live2d modelling work in the order I've made themYou can find public free slimes at the tweet below (red one + way more colours!)
Link to tweet
Commission Information
Currently don't have a full commissions sheet fleshed out yet.If interested please inquire via my
Twitter and we can discuss the project.
Editing Information
I have built an AI that takes the highlights from any video file. If you're interested in very cheap editing please contact me on twitter :)
You can see examples here:Audjinn's Ch. (my channel!)Mochi Highlights Ch. (my highlights channel!)Example edit below!
Pricing
$4 per hour for the first 4 hours

$3.50 per hour for every hour after the first 4

Costs calculated with the time rounded to the nearest 15 minutes.

Rush order will require an additional fee (whichever is larger: $6 or 50%)

(Additional charges may be required depending on the format, for example if the vod is split into multiple parts requiring splicing together)

A 7 hour single vod would cost: 4x $4 + 3x $3.5 = $26.5

A 3 hour 20 minute single vod would cost: 3.25x $4 = $13

A 6 hour 25 minute rush order single vod would have base cost: 4x $4 + 2.5x $3.5 = $24.75 and final cost 1.5x 24.75 = $37.13
Editing FAQ
How to get the best output?

-----> The audio balance is very important for this AI, it will perform much worse if the audio balance isn't right. Personally I use the following as a rule of thumb (which has worked well for myself):

- - >> The main streamer should peak at around -10db and hover around -15db

- - >> Any other collab member should peak at around -13 and hover around -18

- - >> The foreground game should be between -15 and -20

- - >> The background sound (e.g. background music) between -25 and -30

How long will the highlight videos be?

-----> You can choose! There are two figures I can feed the AI: minDuration and idealDuration. The AI will never produce a video below the minDuration but will aim to make all videos as close to the ideal duration as possible (this is not always possible due to the nature of clips being different length).

How will I receive the highlights?

-----> The video will be uploaded to youtube as unlisted and I will send you the link to the video so you can download it for reuploading or further editing.

How soon will I receive the highlights?

-----> Once full payment is received processing will begin shortly after. The finished videos should be completed and the links to each video sent to you within 3 days. If there is any delay I will contact you to let you know.

How do I join the queue?

-----> Either message me on twitter or request a commission through my Kofi :)

How should I pay?

-----> All payments will be in USD and sent to my Kofi

If you have any other questions please dm me on twitter! ::)
Editing Terms of Services
This is the TOS for the AI Video Highlighting.I will take your video file and run it through my AI highlighting algorithmThe payments are for running the algorithm and the processing, not for the final output videos. What the algorithm outputs is the final product and there are no revisions.The sending of payment is taken as agreeming to these terms of service.
I - PAYMENT
I will start processing on the commission as soon as I receive either the down payment or full payment. Payments will be made in USD through my Kofi ( https://ko-fi.com/audjinn ).Payments must consist of either a) payment in full before processing has started or b) A 50% downpayment before processing and a 50% payment after processing has been completed before delivery.If I feel I will be unable to finish the commission I will reject or delay it. If processing has finished no refunds will be given.
II - COPYRIGHTS & USAGE
By commissioning me, you give me the right to use your commission as an example of my work in my portfolio.You have the right to distribute the highlight video (the output of the AI) and monetize the video.You have right to upload an unaltered version of the highlighted video or the right to edit the video after processing.The Audjinn AI clip will be included but may be removed.
III - MISC
You must credit me in the description or in the post by writing "Highlighting done by @Audjinn's AI ( https://twitter.com/audjinn )" or equivalent.There are no revisions to the final product, what the algorithm outputs is what you get.